ShareWine supports Secure Payment through one of the world's leading online payment providers, Stripe.
We recommend both buyers and sellers to use Secure Payment to ensure both parties the best possible trades. In order to receive Secure Payment, it is necessary to connect your ShareWine profile to a free account at Stripe.
It takes about 2-5 minutes to complete the setup guide and you will need the following along the way:
Your phone, to receive two-factor code via SMS
The IBAN number of the bank account on which you wish to receive money for your sales on ShareWine.
Photo ID (driver's license or passport)
Documentation of your address (for example health card, rental contract or similar)
Setup guide:
1. Go to My Account -> My Information -> Shipping click here.
2. Click Connect to Stripe.
3. Your contact information from ShareWine is automatically inserted into the formular to make the setup easier for you. Check that these are correct and adjust if necessary. Then press"Continue". Then write the two-factor-code that you receive via SMS.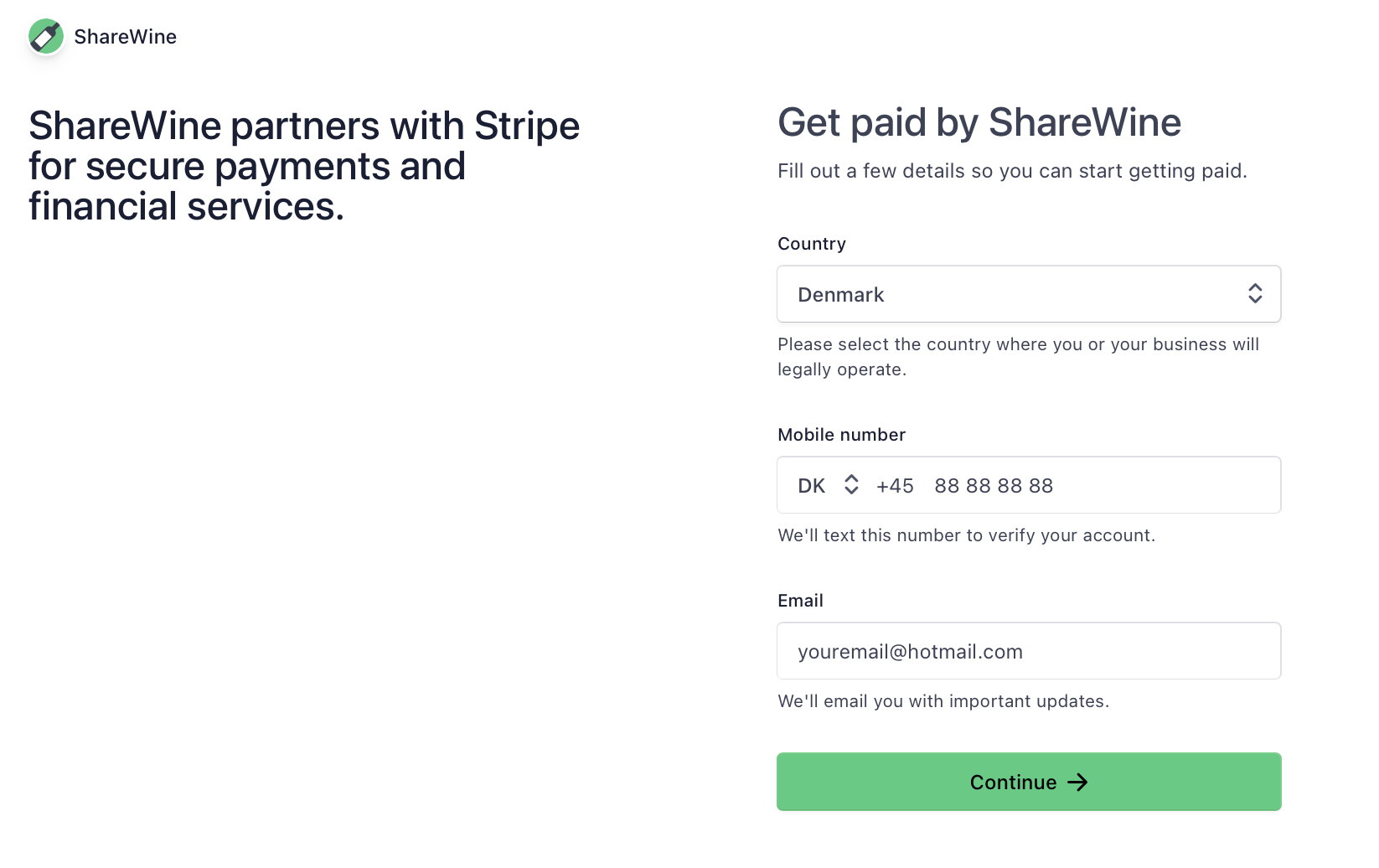 4. Fill in personal information (name, date of birth and address).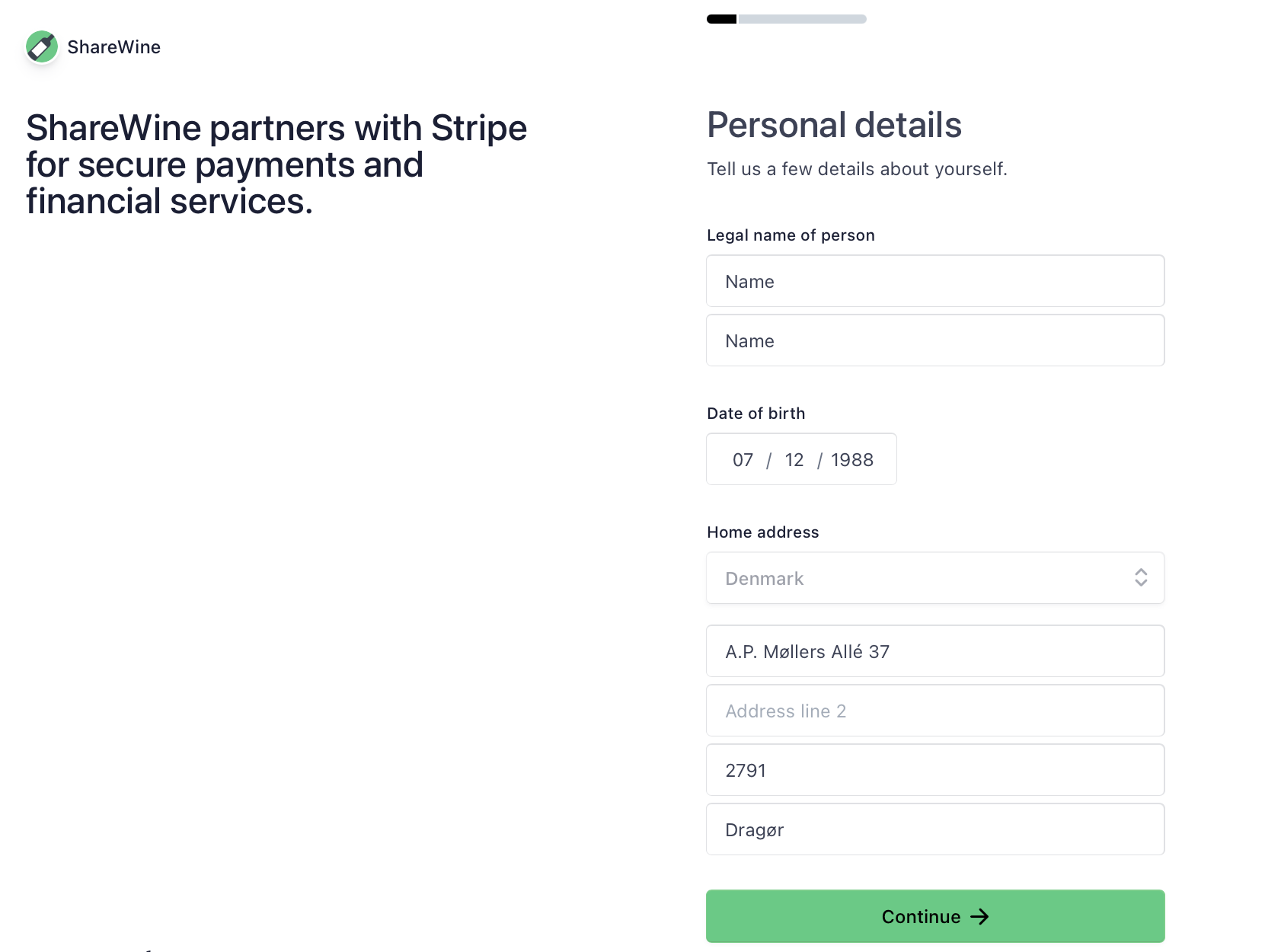 5. In this step, you need to fill in Company Details. If you sell privately, you can tap in the box that says "example.com" and then tap "add a product description instead" (the text in blue to the right of the text box). Now you can write something in the text field in the style of "Private wine collector", or whatever you find appropriate. If you shop as a business with your own website, you can use your address for your website here.

6. In this step, you need to fill in your account information. This must be done so you can receive money. Select currency and enter IBAN (International Bank Account Number). If necessary, see the article on how to find your IBAN number.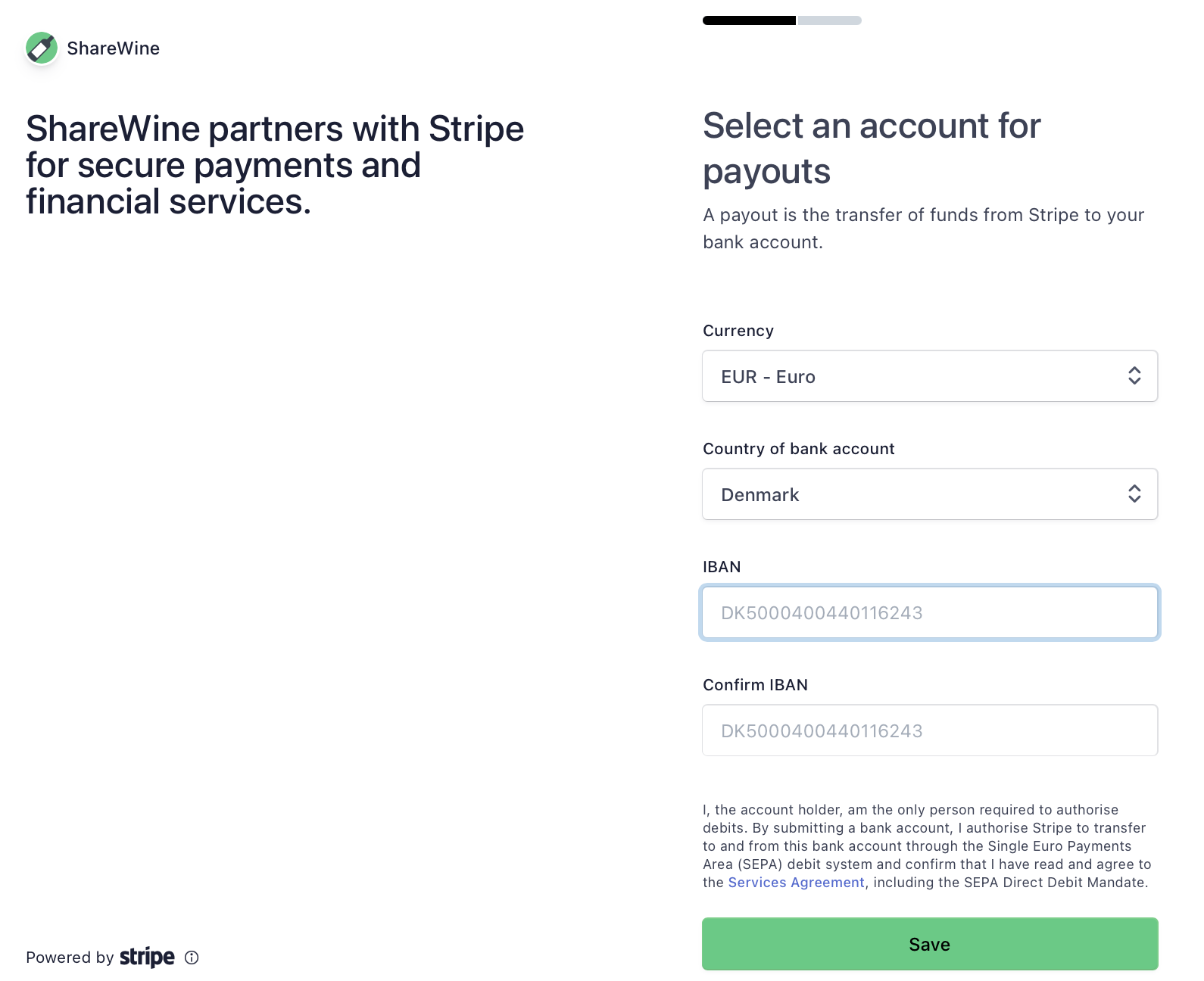 7. In this step, you can review the details that you have entered so far. Now you only need a few steps to verify your account. Press "refresh" to get to the next point.
8. The next step is to confirm your identity. Stripe accepts Passports, Driving licenses and photo ID cards. Press "Confirm now" for ID verification. NOTE: identity verification is done risk-based based on algorithms. Therefore, not everyone is asked to upload documentation. Once you have completed the steps that you are asked to do, you will be notified immediately if your account is set up correctly.
9. Select how you want to upload a picture of your ID, then select the type of ID you want to use. You will then be guided to photograph / upload a copy.
10. After uploading documentation for your identity, you only need documentation for your address. Select the type of identification you want to use and press "next". Then follow the guide to upload.
11. Now you are done with the setup. Press "Submit" and then "Done", which will appear on the screen below. You will now be sent back to ShareWine and you can now receive Secure Payment upon sale.
12. You are now done setting up Secure Payment and you can see the screenshot below. You now have the opportunity to configure how delivery / shipping can take place for your sales. You can read more about this here Set up checkout / shipping.
NOTE: Once you have enabled secure payment, it will be possible for buyers to use it as a payment method for all ads won in the future. This means that if you already have some ads that have been won but where the trades have not been completed before setting up Secure Payment, then Secure Payment cannot be used on these.