To make trades easier, you can turn on shipments for your own sales in ShareWine. It allows your buyers to make a checkout of won ads, in the same way as you know from other webshops.
It requires that you have set up Secure Payment.
Go to My Account -> My Information and select the Shipping tab.
Here you have 3 options:
Send: turn this on if you offer to send wines to buyers. ShareWine recommends that you offer to send yourwine. In this way you can reach more buyers and usually get a higher price. At the same time, the transaction can be completed as soon as you want it with shipping, rather than having to agree on a time and place to meet.
Pick up: turn this on if you offer that buyers can pick up the wine from you.
Wait: turn this on if you offer buyers to leave a wine with you for some time. It is typically used to group multiple won bids into a single shipment.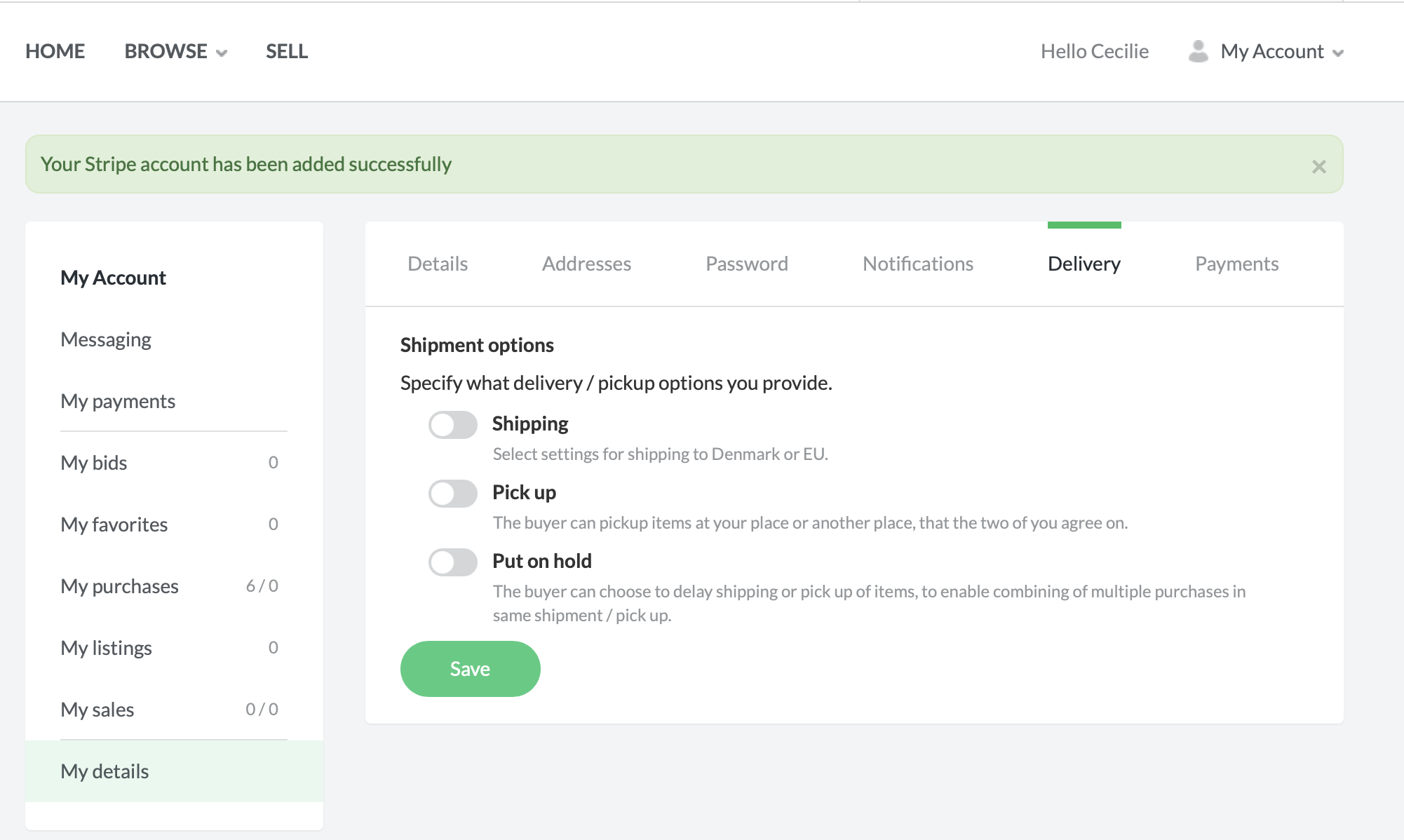 Turn on at least "Shipping" and go to step 2.
Now you need to decide how you want to ship wines to your buyers.
ShareWine Shipping: ShareWine has freight agreements with PostNord and GLS (via Shipmondo), which are integrated into the platform. This means that if you choose to use ShareWine Shipping, we will automatically buy postage for you when the buyer wants to have a wine sent, and attach it to your display under My Sales. All you have to do is print the postage label, pack the wine securely to send the package. The tracking information is automatically updated in ShareWine so both you and the buyer can follow this.


Stand for freight yourself: If you want to buy freight yourself, it is also possible. If you turn on this option, you must enter what the shipping price for shipments of wines is. Please enter the minimum price for 1, 2 and 3 bottles to cover the most common scenarios.

NOTE

: If you sell a wine where you have not configured the price for shipping, then the buyer can not choose to have the wine sent.


Denmark, EU: When shipping, you must choose whether you want to ship to Denmark and to Europe separately. We currently have very few foreign users. But we will be opening up to European users in the following months.


Additional costs: If you have additional costs for shipments, it will typically be the purchase of packaging. If this is the case you can go to Additional Cost, and define what they are per shipment type (number and type of bottles).

NOTE

: Additional Costs are only added for ShareWine Shipping. If you are responsible for shipping, make sure that the price you define includes everything.


Expected Shipment: Fill in the number of days buyers can expect you to ship within. From ShareWine we recommend shipping within a maximum of 3 days to ensure a quick completion of trades.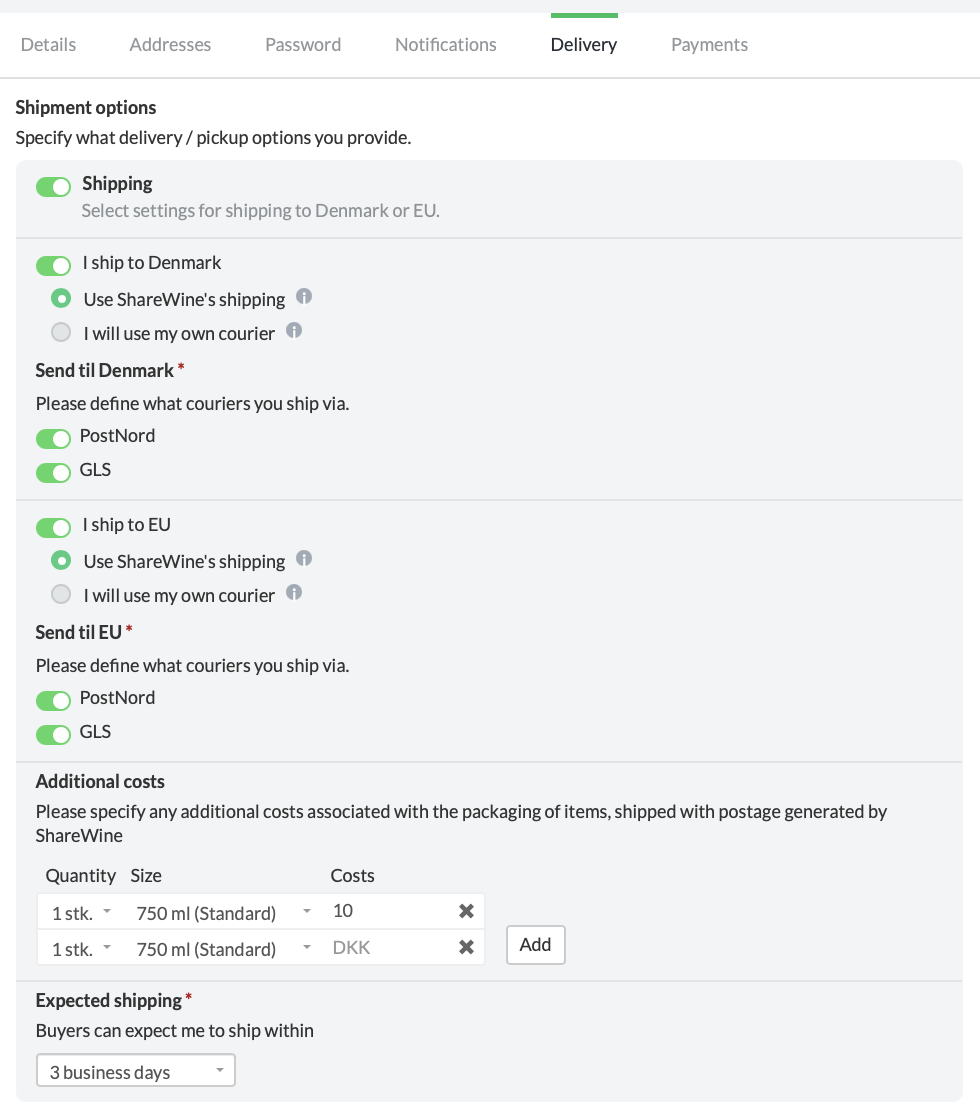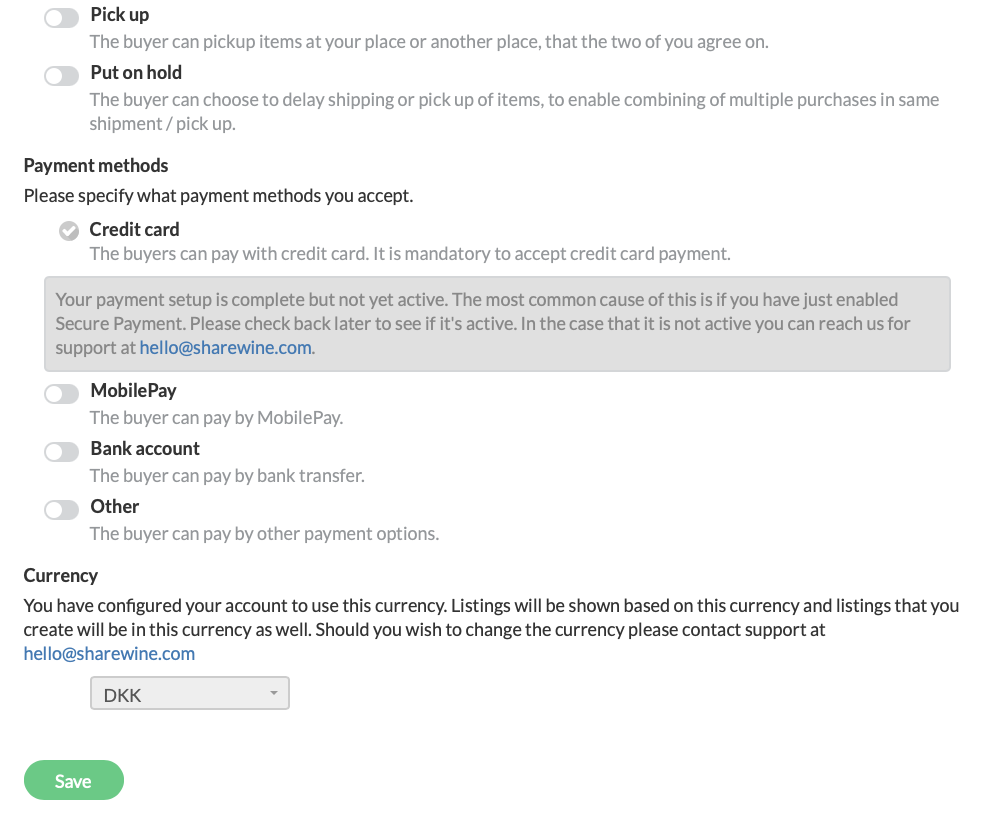 Once you have entered it all, press Save. From now on your buyers can use checkout on bids that they win from you.